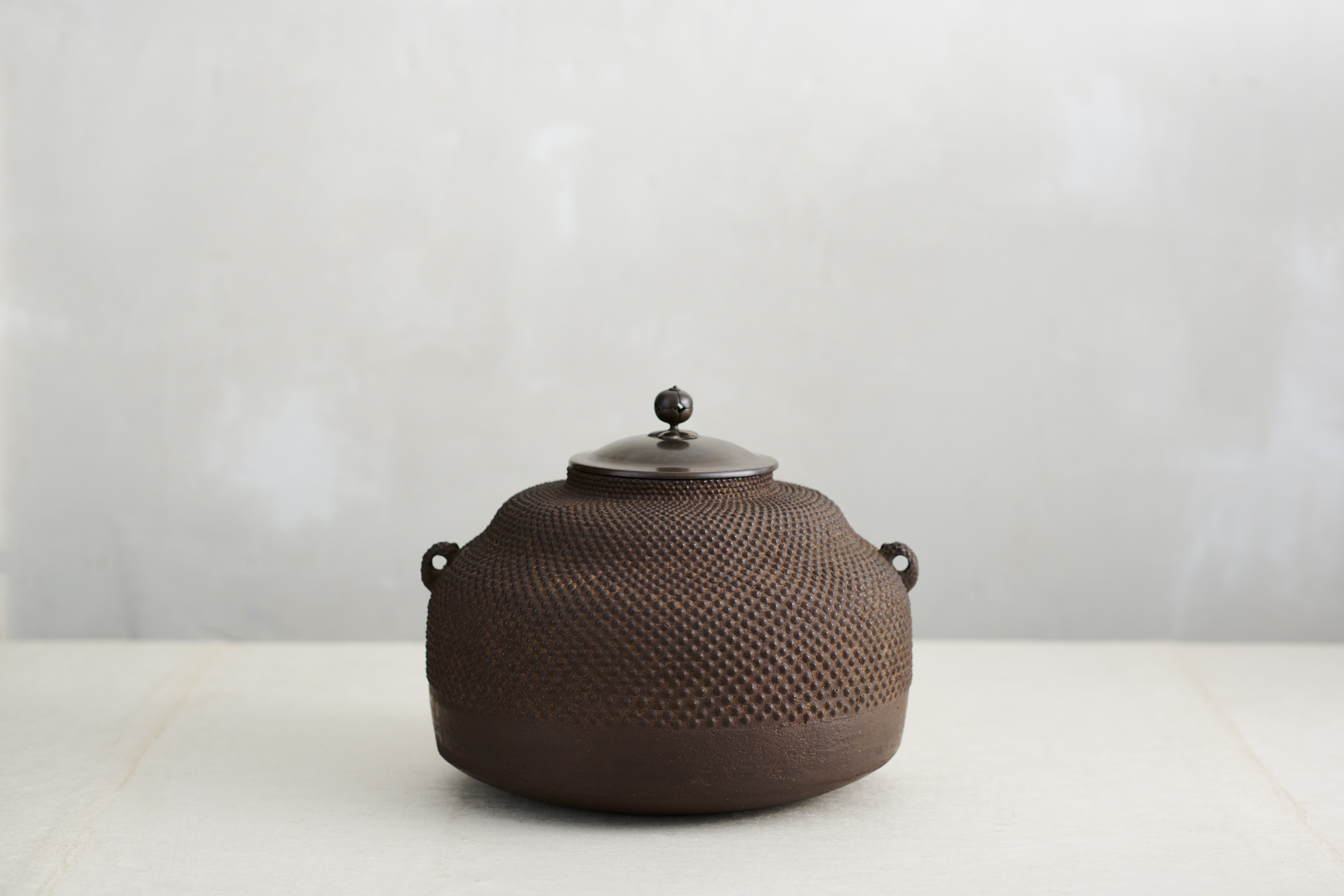 霰釜 伊勢芦屋製
Kettles for Cha-no-Yu. (Ise-Ashiya Araregama)
JPY900,000Overseas Selling Price
Period

Momoyama - early Edo period (17th century)
Provenance

A private collection
Sizes

W. 267mm (Diamater: 110mm) H. 180mm
Accessories

Certificate of authenticity from Nagano Isao, Woodbox, Furoshiki
Technically proficient artisans from the Chikuzen-Ashiya(*1) area used high quality materials to create highly artistic kama (kettles for Cha-no-Yu.) These artisans roamed Western Japan. At the end of the Muromachi period, artisans working in the Ashiya style in Ise-no-kuni, an area currently lying in Mie, Aichi, and Gifu Prefectures, were crafting kama. These kama are collectively known as as Ise-Ashiya Kama.
This kama is indicative of the Ise-Ashiya style. The smooth black brown colored surface is punctuated with small and large arare, a hail-like pattern, that covers it. The tooled surface is a testament to the talent and technique of the artisan who crafted it. Prized during the Keichō period (Momoyama to the early Edo period), this comparatively large work is lent a softness and brightness by the curved and slender shoulder of the piece. The pinecone shaped lugs are indicative of those often seen in Ise-Ashiya works.
The bottoms of old kama are often damaged due to long exposure to high temperatures. The bottom of this kama, however, has been reworked by a highly skilled artisan. It doesn't leak and is in working order.
Nagano Isao (*2), himself a craftsman of Cha-no-Yu kama, has a reputation as one of the leading experts regarding old kama. This superior example of an Ise-Ashiya kama comes with a certificate of authenticity from Nagano.
*1 "…Ashiya refers to Chikuzen-no-kuni Ashiyatsu (currently Ashiya Village, Onga County, Fukuoka Prefecture.) This area was already well known in the Nara Period for casting iron. Relics from the late Kamakura Period, primarily products related to Buddhism, are scattered throughout the area. It's not known exactly when Ashiya started casting iron kama but there are examples of a flat kama cast in 1424 and another kama cast in 1494. Many Ise-Ashiya kama have a soft arare pattern. Lugs are often shaped like demon or woman traditional dance masks. The casting and artisanship are exceptional. Patterns are comparatively subdued and traditional and are based Yamato-e such as pine/bamboo/plum, foul, horses, landscapes, etc. Arare patterns make up more than half of all Ise-Ashiya kama. By adding examples where Arare is combined with other designs, it's clear that arare is by far the most prevalent design found. It's understood that iron founders including Ashiya artisans travelled extensively during the middle ages. Thus, there are seven areas where Ashiya-type kama were cast. Artisans were most prolific from the end of the Muromachi Period to the Momoyama Period, but had all but left the scene by the beginning of the Edo Period. Ashiya itself was brought to a close between 1624 and 1644…" by Nagano Yutaka in Chadōgu-no-sekai 8 (Kama and Sumi dōgu) published by Tankōsha.
*2 Born in Gifu Prefecture in 1945. Studied under Nagano Tetsushi in 1970 and began researching old kama. Started crafting Cha-no-yu kama in 1972 and first exhibited his work at the Japan Traditional Kógei Exhibition. Won the Commissioner for Cultural Affairs Award at the Exhibition of Traditional Japanese Metalwork. Multiple solo exhibitions thereafter. "About the tea ceremony–a viewpoint on contemporary kôgei (studio crafts)" in 2010 at the Crafts Gallery, National Museum of Modern Art, Tokyo. Member of Japan Kōgei Association.
Click to see a larger image