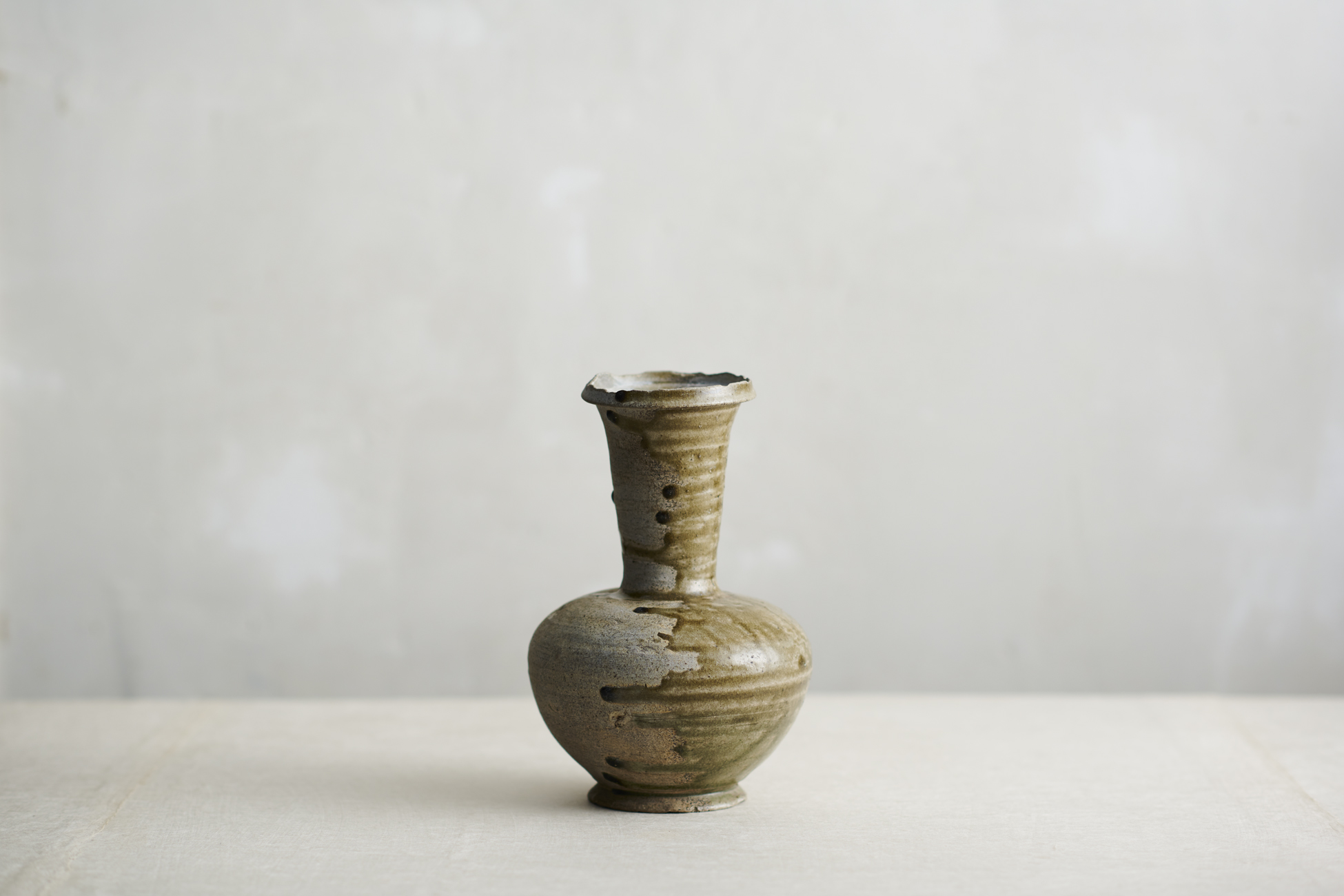 Period

Heian period (9th century)
Provenance

Private collection
Sizes

H. 230mm, W.150mm
Accessories

Old wood box
Sue stoneware was produced from the early Heian period to the 9th century. A white and high-quality clay found in the Sanagayama area (currently Toyota City and Seto City in Aichi Prefecture) was used by the most accomplished potters in the most advanced facilities at the time to create a type of tableware or table vessel for Heian nobility or officials (*1.)
When fired in the kiln, flames to the side of this jar created parallel running streaks of natural glaze (*2.) The resulting landscape is rich and almost like a Lee U-Fan painting. The sharp form of the jar is reminiscent of metalware imbued with a high level of artistic sense. It's as if the hands of the gods shaped what can only be described as a masterpiece amongst Sanagechōkēko jars.
There are some shallow chips running along the rim of the mouth, but no cracks or repairs are noted.
*1
Jars like this were most likely used as tokkuri to hold fermented alcohol or vessels to hold liquid seasonings.
*2
The semi-underground kilns used to fire Sue stoneware were heated by wood. In the firing process, objects stacked in the kiln would be exposed to temperatures of up to 1300 degrees Celsius. Ash accumulating in the kiln would turn to glass, resulting in a natural glaze. It's impossible to artificially create the patterns and shades that occurred spontaneously. The unaffected beauty of these pieces is especially compelling.
Click to see a larger image