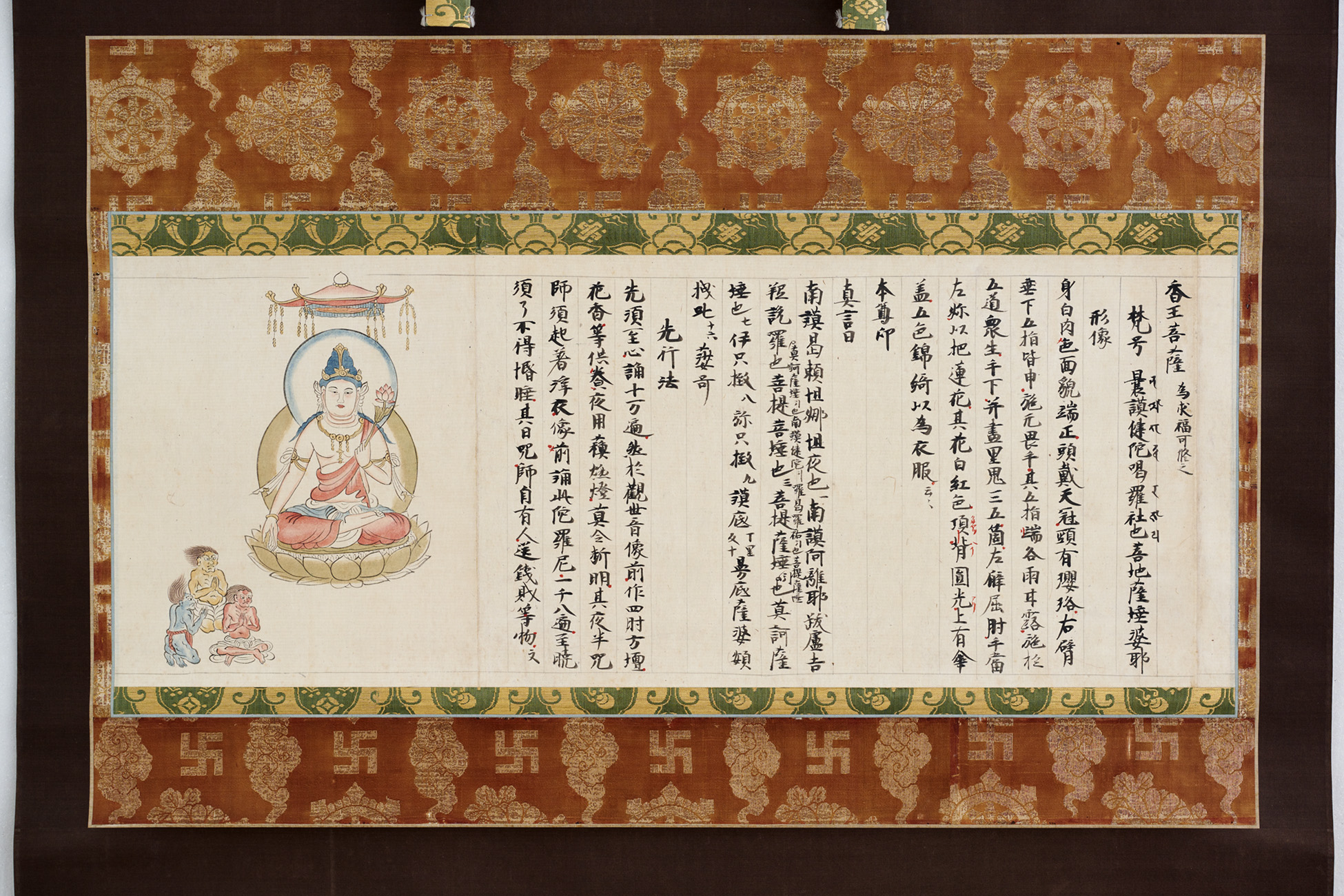 香王菩薩 図像
Kō-ō Bodhisattva Iconograph
Period

Kamakura period (14th century)
Provenance

Ninna-ji temple, Kyoto - Private collection
Sizes

688 × 264mm
Accessories

Wood box
Iconography is used to record or pass on Buddhist teachings, especially those associated with Tantra and "secret mantra." Most iconographs feature paintings or illustrations rendered by amateurs, specifically Buddhist novices, and are found in scroll format. However, it's important to note iconographs were not created or intended to be works of art and that there is a clear distinction between them and Buddhist art as painted by trained artists.
The work featured here is the Kō-ō Bodhisattva (*1) portion of the iconographic scrolls passed down over time at Ninna-ji Temple in Kyoto. Wrought in soft black strokes, the illustration of Kō-ō Bodhisattva is preceded by a written explanation of the Sanskrit mantra, imagery, etc. Based on the expression of the Hotoke, the style of the lines, and the type of paper used, etc., the iconograph is from the late Kamakura Period to the early Muromachi Period (*2).
Iconographs are not characteristically thought of as high-quality works of art. However, this work does convey the great dignity the novice monks possessed as they shared their teachings with believers, leaving this proof of their faith behind for future generations. The condition of the piece is good; no touch ups or repairs are noted.
*1
One of many Boddhisatva in Buddhism; a Buddha bringing good fortune to all living things and like the scent from an incense burner spreading benevolence throughout the universe. The whiteness of the Boddhisatva's skin, crowned head, sweet nectar dripping from the right hand taking the form of the Semui-in (mudra bestowing fearlessness), and the left hand holding a lotus flower to the breast are common. A parasol floats above the head of the Boddhisatva. There are usually three to five demons at Kō-ō's side.
*2
This work is accompanied by a memo that describes it as part of scroll that includes an inscription dated June in the third year of Enkyo (1310.) (This document is not something that guarantees the historical accuracy of the work.)
Click to see a larger image