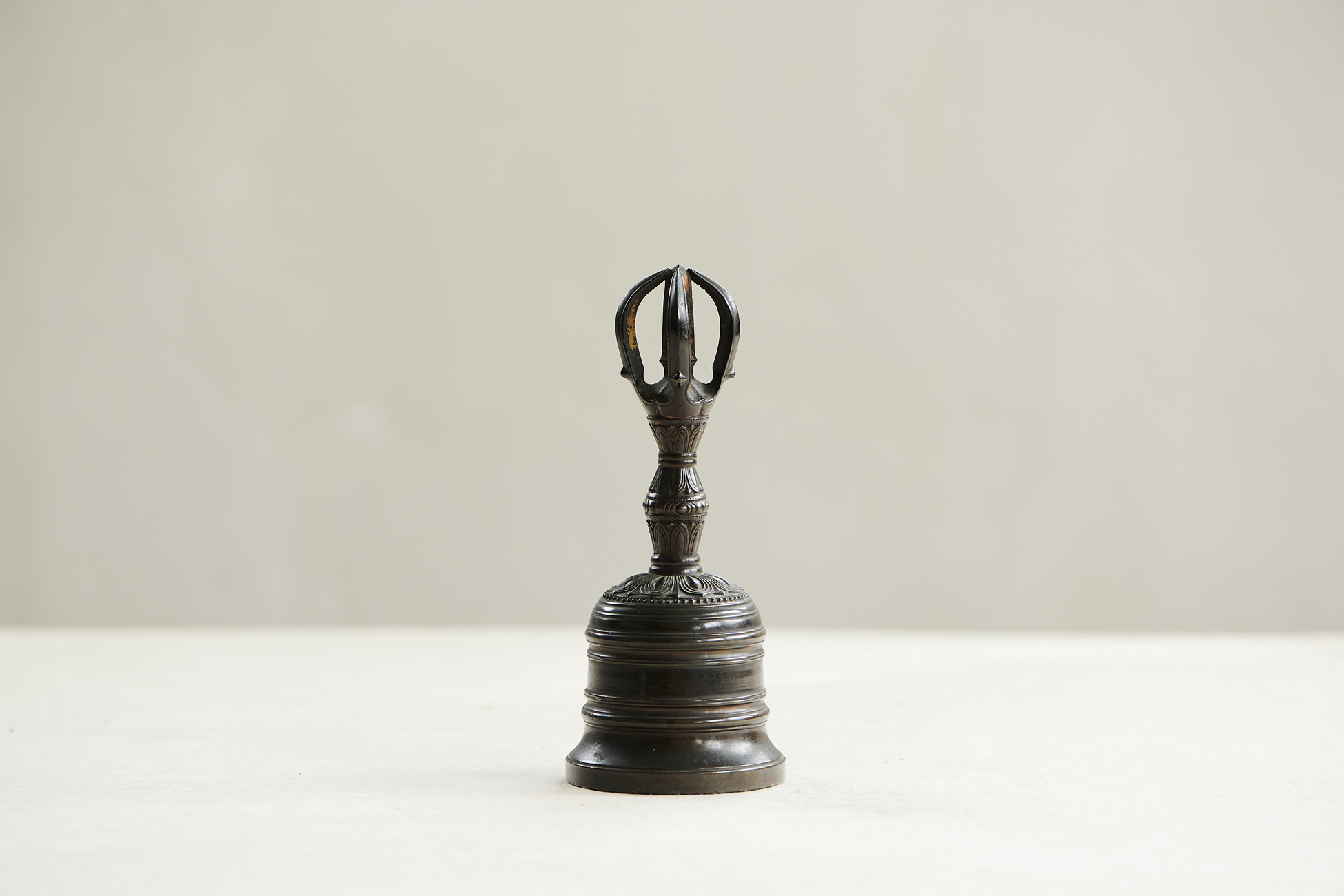 金銅五鈷鈴
Gilt-bronze Five-pronged Vajra Bell
Period

Kamakura to Nanboku-cho period (14th century)
Provenance

Private collection
Sizes

H. 180mm, W. 75mm (bottom)
Accessories

Wood box
Five-pronged bells* are a type of Varja bell, ritual implements used in Esoteric Buddhism that can be shaken and rung to startle and delight various buddhas, bodhisattvas, deities, etc. The bell portion of this work is cupronickel. The pestle is gilt bronze and was constructed separately. It only retains hints of gilt here and there. Most likely the entire work was originally gilded. An example of this type of separate casting would be the five-pronged bell handed down through the ages at Tōdaiji Temple in Nara and which is stylistically representative of works from the end of the Kamukura period to Nanbokuchō period.
The pronged section of this piece consists of curved barbed horns that appear to be diminishing in size while still lending a sense of strength to the overall form. Lotus petals can be seen on the mukuri or camber of the bell. The attention to detail is quite impressive. It is obvious there were no corners cut in crafting this piece with its elaborate patterns. The workmanship suggests the piece is from a large and noteworthy temple.
The clear tone of the bell when rung evokes an image of a lone monk bowed in devoted prayer in a calm and quiet temple hall.
*
…of all the ritual implements employed in ancient Esoteric Buddhism, this implement was treated with the most respect. Thus, there are more than a few examples of excellent craftsmanship found in this type of implement. Bells are usually plain but may be embossed with Buddhist images, things reminiscent of Sanmai Yagata or Sanskrit characters, or decorated with arabesques. (Excerpted from Mikyōhōgu, Nara National Musuem Edition)
Click to see a larger image