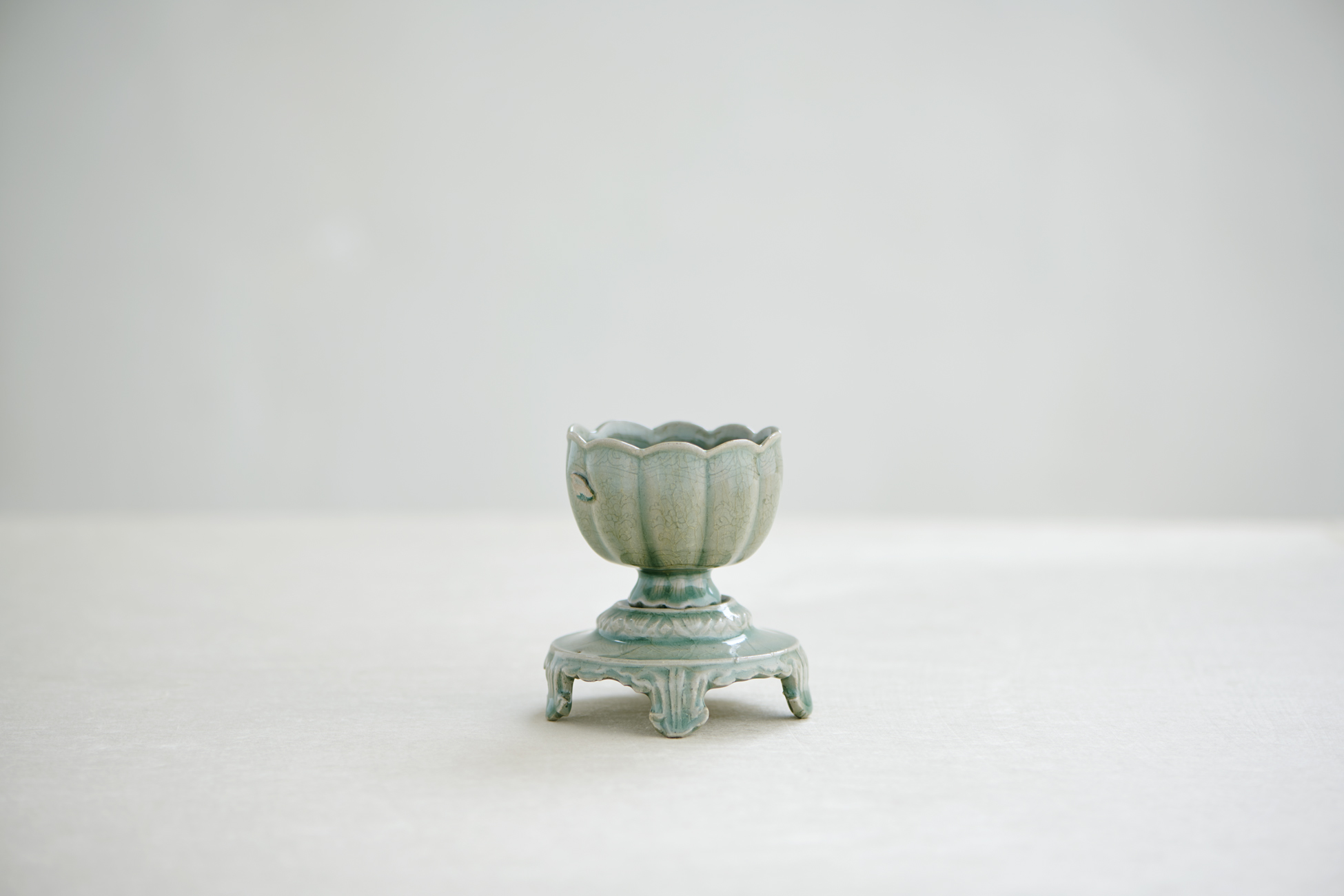 高麗青磁 陽刻菊花文輪花形盞・托
Cup and Stand  Celadon with incised chrysanthemum design
Period

Goryeo dynasty (12th century)
Provenance

Private collection
Sizes

H. 62mm (cup) / 40mm (dish), W. 74mm / 90mm
Accessories

Shifuku, Wood box
Many cups and stands like this set were made during the Goryeo Dynasty, a time when Northern Song Dynasty customs surrounding tea houses and drinking culture were in fashion. Only high-ranking persons like aristocrats and officials were permitted to use this type of tableware. Vessels like these were produced at the height of the Goryeo Dynasty (11th through the early 13th century.) They are suffused with just the right amount of tension; the delicate craftsmanship and pure glaze are characteristic of the period. It is said that Chinese officials and bureaucrats were particularly fond of this style. (Goryeo ware has been unearthed in strata corresponding to the North Sung Dynasty and has also been found in sunken ships- seagoing cargo vessels- on the ocean floor.)
The delicately sculpted foliate rim of this cup curves slightly inward. Together with the short and narrow yet firm stem, etc., the piece is typical of those made at the height of the Goryeo Dynasty, the 12 century. The banner like pattern around the mouth, the detailed relief in the chrysanthemum pattern on the walls of the piece, and the continuation of relief work to the design at the bottom of the cup point to the high quality of the piece. The form and emerald color reminiscent of jade (*1) project a feminine softness. For a 12th century cup with relief, the piece exudes a high level of workmanship.
The inside and outside surface of the cup is crackled, and there are several tiny spots where the glaze has eroded. Kiln damage is evident in one place on the outside wall. Other than these things, there are no other defects or repairs noted. Regarding the stand, two of the five legs are damaged, relegating it to reference material status. However, it is much smaller than most stands and is therefore quite rare. A similar work can be found in Collection of World Ceramics 18 Celadon.(*2)
*1
A light green reminiscent of Emerald (celadon that is strongly reminiscent of Jade is prized in China.) Quality celadon from the Esshu kilns in China made its way to Japan from the Five Dynasties Period to the North Song Dynasty Period. It greatly pleased Heian aristocrats, who called it Jade or by its homonyms in Japanese, secretly or secret color.
*2
There are 10 petals on the foliate rim of this cup whereas there are 9 lotus petals on the stand. However, the size of the cup and stand fit well and the color and crackled surface of each closely resembles the other. This lack of incongruity points to the probability that this is a set. From Collection of World Ceramics 18 Celadon (Published by Shogakukan) p. 64.
Click to see a larger image