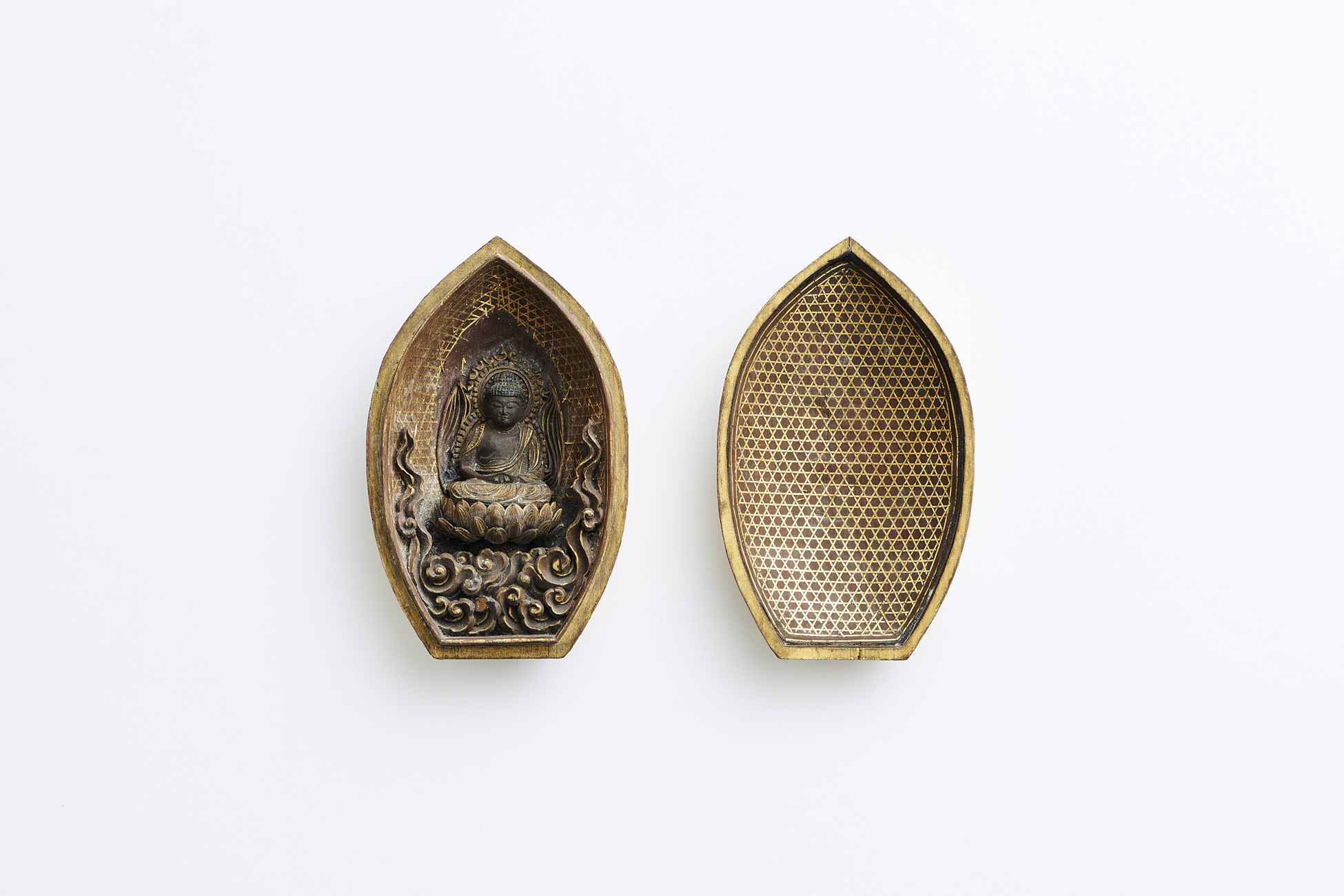 香合仏
Amitabha Incense Container
Period

Edo period
Provenance

Private collection
Sizes

H. 110mm, W. 50mm
Accessories

Wood box
The lid and body of this kōgō (incense container) form a small Buddhist altar, an example of a "portable Buddha." It is crafted to allow its owner to carry it on journeys and worship wherever they might stop. There are many types of Buddhist statues found amongst personal effects passed down through the generations. Perhaps one of the most famous examples is the Ragaraja Kōgō at the Nara National Museum. This masterpiece dates to the last part of the Heian Period and is believed to have been sculpted from sandalwood, an aromatic wood.
The item pictured here is also sculpted from sandalwood. The body of the kōgō consists of an esquitely detailed carving of a seated Amitabha with a lotus petal stand and mandorla amongst other things. It's lamentable that the upper portion of the mandorla has been lost. Nevertheless, one gets a sense of the incredible technique and spirituality of the master Buddhist sculptor from the ancient capitol who produced this work. The piece is heavily embellished by gold tracings as well as kirikane (*1), extravagantly and splendidly rendered. It can be said that this kōgō represents a pinnacle of traditional crafts, both surprising and moving those who view it.
(*1) Kirikane
Kirikane, also known as hosogane, is a technique where several pieces of metallic foil are fired together and then cut into strips or other shapes to form decorative motifs when adhered to another surface.
Click to see a larger image