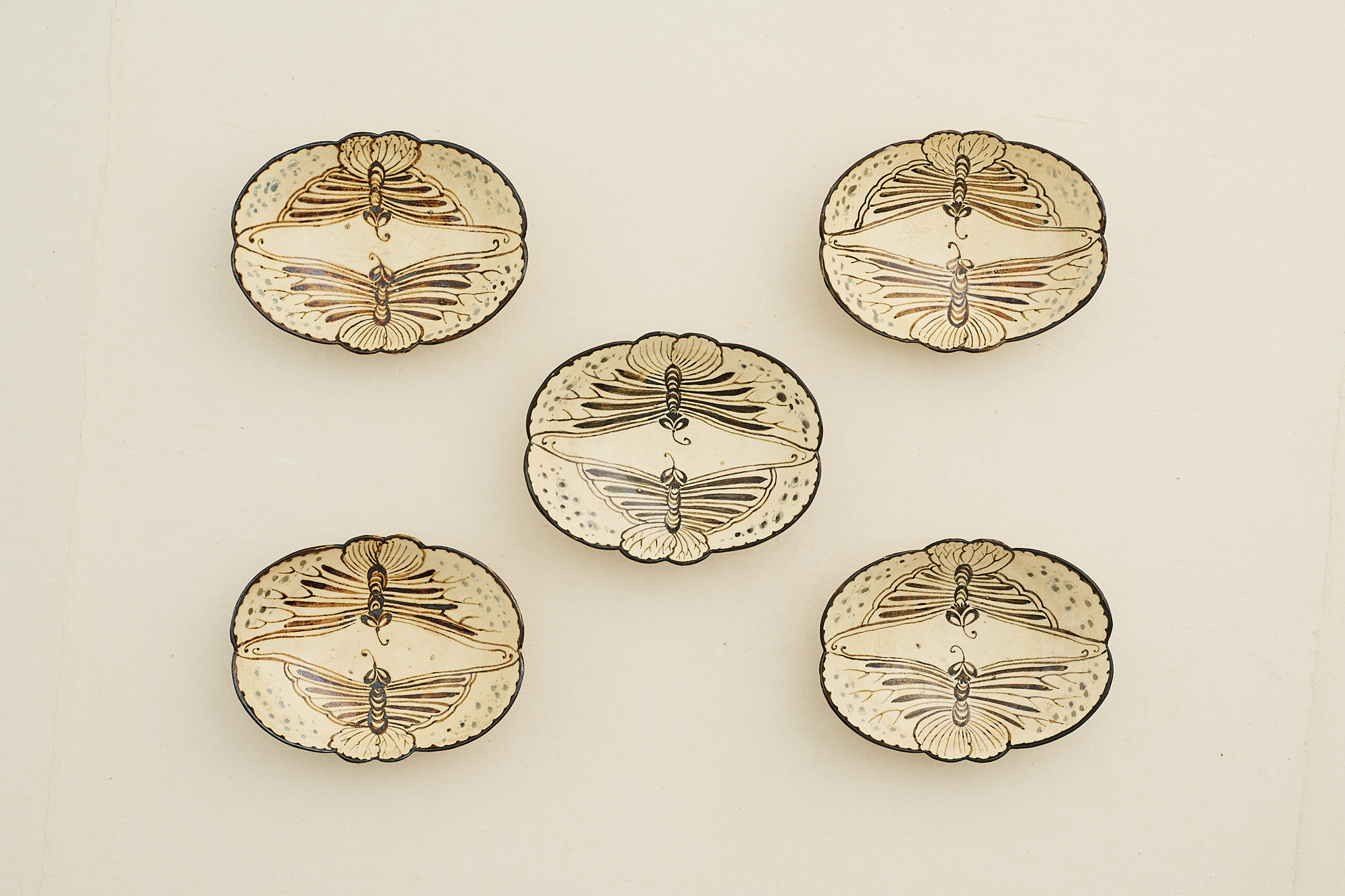 古清水双蝶文向付 五客
Old Kiyomizu Ware (Set of 5)
Period

Edo period (18th century)
Provenance

Private collection
Sizes

W. 148mm, D. 110mm, H. 45mm
Accessories

Old wood box
Double Butterfly Pattern Small Serving Dishes (Set of 5)
These serving dishes are an example of Old Kiyomizu Ware fired in a Mizoro lineage kiln. The delicate clay body of each dish was laid into a mold and then cut into an elliptical shape. Afterwards, the ellipse was shaped by hand into the double butterfly shape. The splendor and delicate appeal of the design certainly captivates us, but the butterfly is embodied with spiritual purpose. Butterflies acted as envoys, carrying the souls of those lost to the Land of Happiness in Pure Land Buddhism. They are also cherished as symbols of rebirth. It can be said that this design, which is rooted in the Pure Land concepts of "love" and "prayer," is representative of the full maturity of Chakaisekior Tea Kaiseki Culture, which is at the base of the beauty of Kyoto Ware.
There is some minute cracking in the glaze and slight damage on individual pieces, but Old Kiyomizu Ware is delicate and fired at very low temperatures. Overall, these bowls remain in quite good condition. This is the first time I have seen this pattern. Moreover, the fact that the full set of five are still intact make this find even more rare.
The antique cedar box in which the bowls were originally stored is included in the price. On request, we can provide a newly crafted Paulownia box for an additional fee.
Click to see a larger image