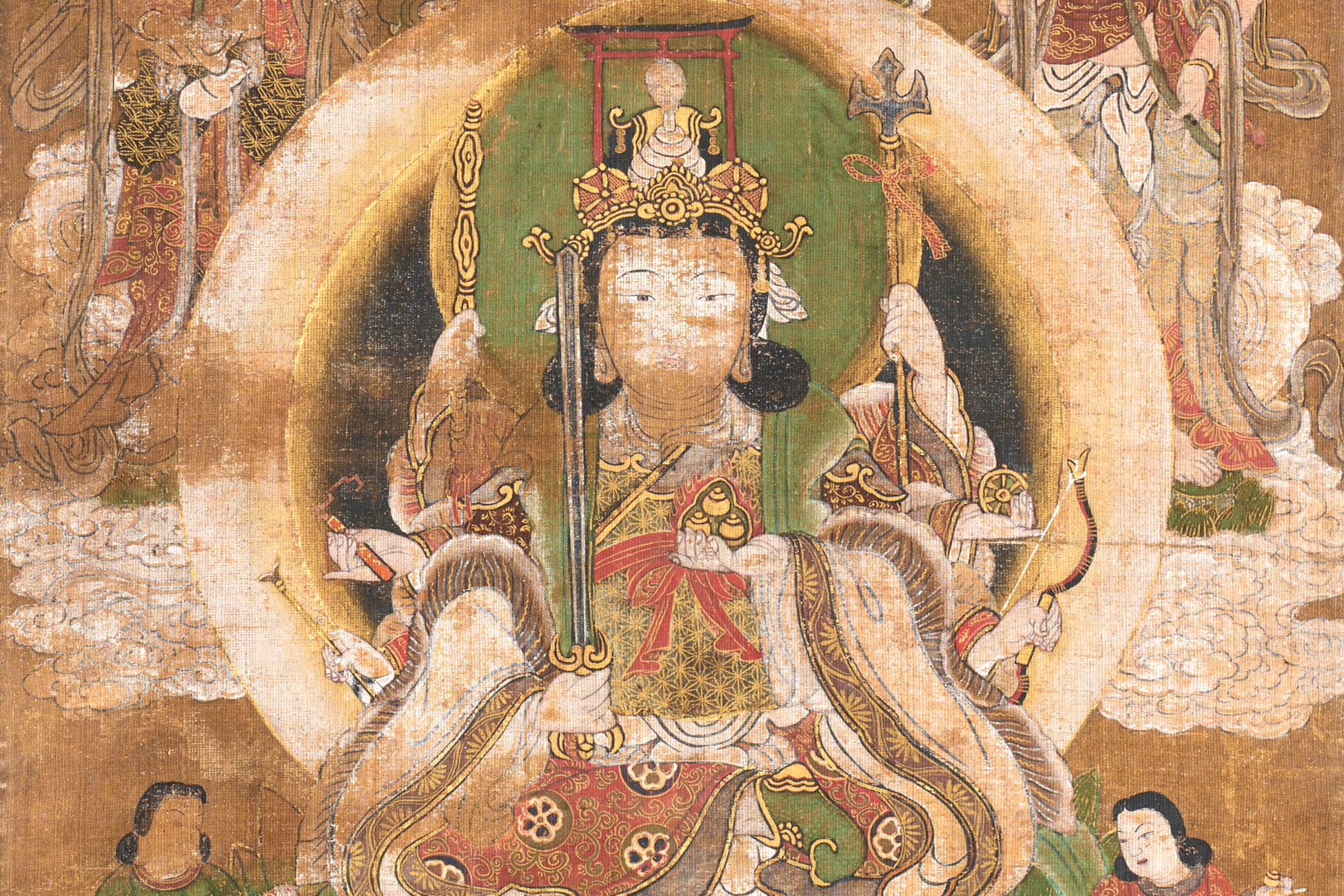 Period

Muromachi period (15-16th century)
Provenance

Private collection
Sizes

H. 1980mm, W. 370mm (w/o shaft ends)
Accessories

Wood box
This Benzaiten Mandala was painted in the Muromachi period. The three realms of existence* are above the centrally located Happi (eight armed) Benzaiten. From the left, they are Nittenshi (Sun), Myōjō Tenshi (Stars), and Gattenshi (Moon). Below are Benzaiten's 15 attendants and two Chigo, boy pages, as well as a cart with cow and horse.
The subject matter is depicted in great detail on the type of course silk often used in the Muromachi period. Although the white pigment is flaking somewhat, the black ink lines are generally in good condition with little color loss and no retouching. The color scheme is extremely well balanced. The gold paint used at key points lends an aura of refinement typical of old pieces of this nature. The old cloth used for mounting is a satin damask, visible both over and under the Mandala. It is surrounded by a tortoise shell pattern with gold brocade, which is used for the remaining mounted area. The shaft ends have engraved, gold plated metal fittings.
Honestly, I have never seen a Benzaiten mandala with the three realms of existence. It is different from mandalas used in Esoteric Buddhism or mandalas depicting the temporary manifestation Buddhist deities. The piece's charm and rarity are derived from it being representative of the chaotic nature of the varied forms of faith prevalent in the middle ages.
* This is an honorific title for the Sun, stars, and Moon. Located in the center, Myōjyō Tenshi is considered to be incarnation of KokūzōBodhisattva, depicted with sword and jewels.
Click to see a larger image