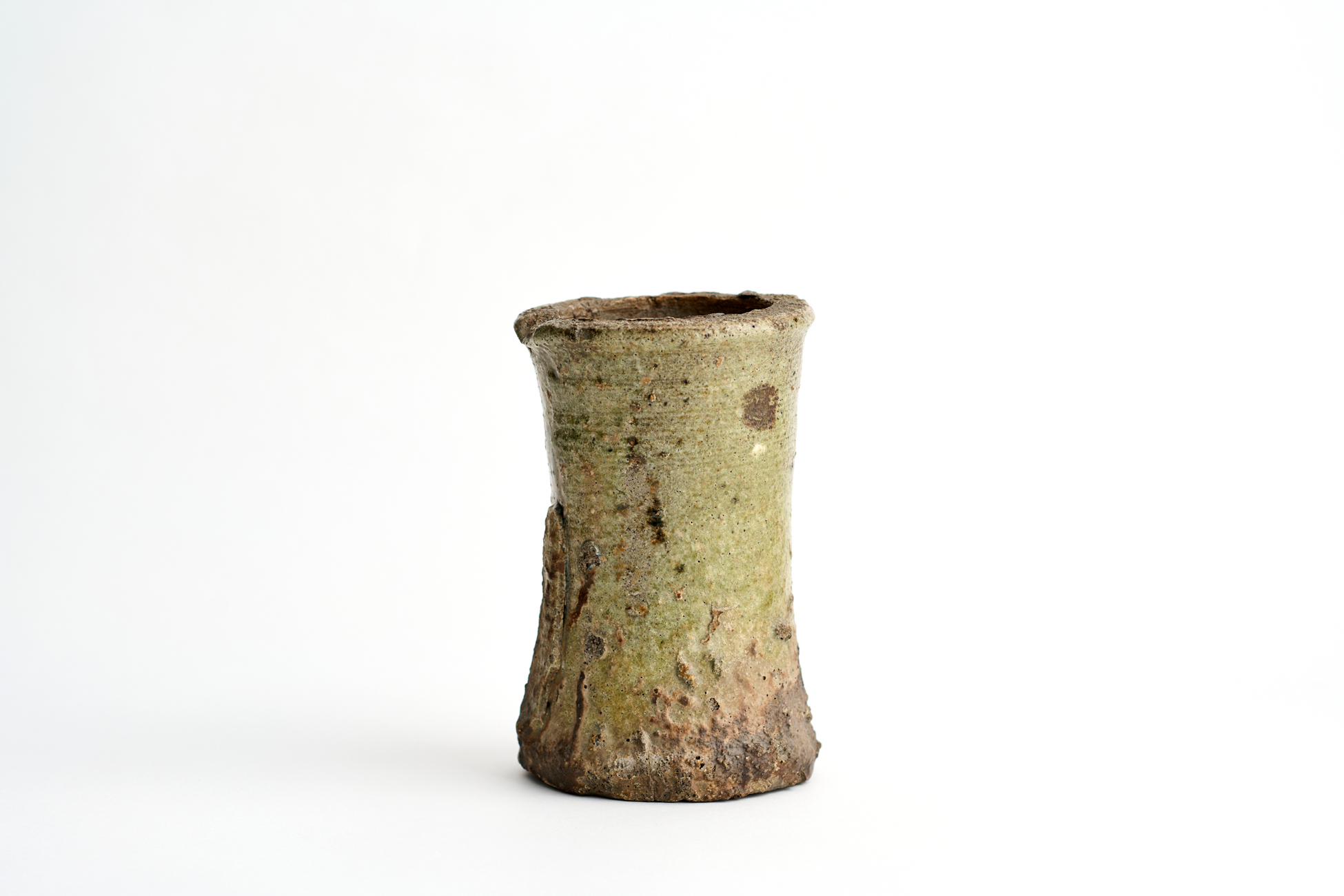 伊賀旅枕花生
Iga Tabimakura Hanaike
Period

Late Muromachi - early Momoyama period (16th century)
Provenance

Yanagi Takashi (Art dealer of Kyoto) - Hata Hideo - private collection
Sizes

H. 190mm, Lid. 90mm
Accessories

Double wood box (w/ original box), Otoshi (For storing water)
Allow us to introduce the Iga Tabimakura Hanaike pictured here. Tabimakura, literally a portable or travel pillow, is the name given to this type of cylindric or tube-like flower vase with a large, open mouth. However, the actual name of this type of vessel is tochin, a type of tool used when firing pottery. Tea practitioners repurposed these tools as flower vases. Therefore, tochin are the roots of the what we now call tabimakura.
This piece is quite an old example of such a tool being used as a flower vase. The front of the vase has a natural light green glaze, lending a gentle and peaceful aura to the piece. The other side of the piece, however, has a brownish red, burnt ash glaze, which provides a violent contrast to the front of the vase. This glaze can only be the result of multiple and repeated firings within the kiln, leading to a beauty beyond the realms of what can be rendered by humans. The vase was once owned by the author Hata Hideo and a description of the vase can be found on page 52 of Hata's Kotto Tamatebako (A Treasure Box of Antiques) published by Bunka Publishing Bureau.
Hata must have really loved the piece because he also sung its praises in other publications like the 1972 New Year Issue of Chisana Tsubomi. After having a new paulownia box made and inscribing it, a second outer box made of cedar was custom crafted to ensure safe keeping of the piece. Additionally, a metal sleeve of exact proportions for the vase accompanies the piece.*
This piece is different than the Oribe type of tabimakura preferred by many in that it has an honest and natural beauty. Rather than hearkening the sound of baroque, it exudes the tranquility reminiscent of a moss-covered rock surface.
* The piece was originally a tool used in kilns and open on both ends. The bottom has been filled by other material. Visually and structurally, there is no problem. However, the inner sleeve should be used when displaying flowers.
Click to see a larger image