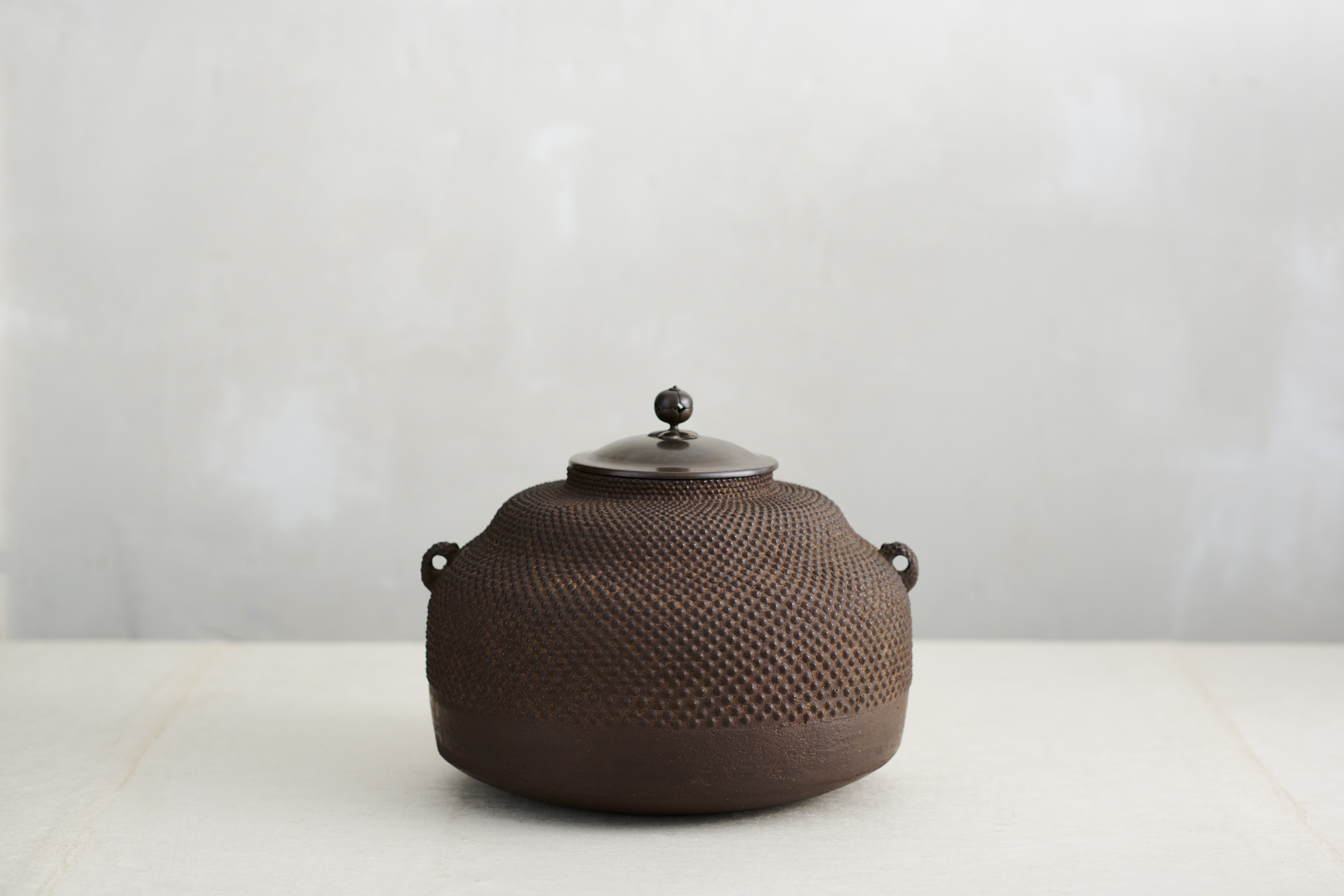 New Arrival "Ise-Ashiya Araregama"
January 8, 2022
Today, it's our pleasure to share a "Ise-Ashiya Araregama (Kettles for Cha-no-Yu.)" with you. This kama is indicative of the Ise-Ashiya style. The smooth black brown colored surface is punctuated with small and large arare, a hail-like pattern, that covers it. The tooled surface is a testament to the talent and technique of the artisan who crafted it. Prized during the Keichō period (Momoyama period), this comparatively large work is lent a softness and brightness by the curved and slender shoulder of the piece. The pinecone shaped lugs are indicative of those often seen in Ise-Ashiya works.
Nagano Isao (*), himself a craftsman of Cha-no-Yu kama, has a reputation as one of the leading experts regarding old kama. This superior example of an Ise-Ashiya kama comes with a certificate of authenticity from Nagano.
* Born in Gifu Prefecture in 1945. Studied under Nagano Tetsushi in 1970 and began researching old kama. Started crafting Cha-no-yu kama in 1972 and first exhibited his work at the Japan Traditional Kógei Exhibition. Won the Commissioner for Cultural Affairs Award at the Exhibition of Traditional Japanese Metalwork. Multiple solo exhibitions thereafter. "About the tea ceremony–a viewpoint on contemporary kôgei (studio crafts)" in 2010 at the Crafts Gallery, National Museum of Modern Art, Tokyo. Member of Japan Kōgei Association.